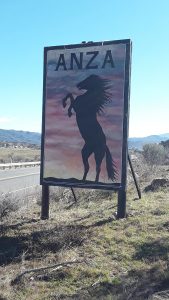 Are you looking for an appraiser who understands and is familiar with Anza?  Do you have an issue with finding someone who will drive to your rural area to do a property appraisal / valuations? Brad Bassi, SRA founder Straw Hat Enterprises is familiar with driving the dirt roads of Anza to complete an appraisal or consultation on your property. My work has been in Anza for private property (needing to list their property), litigation work, family law/divorce, and bankruptcy. I stand out from other appraisers coming into Anza, CA, with great customer service, the "go the extra mile" attitude and I am the one who completes the property appraisal / valuation, not a trainee or staff appraiser. I have completed over 60 appraisals in Anza that includes residential vacant land from 2 to 100 acres, manufactured homes and custom homes. If you are interested here are a couple testimonials from several clients whom I have worked with in the recent past in the Anza market:
********************
Brad, great to talk with you again. Really glad that you are involved in doing the appraisal since you are one few appraisers who actually understands the Aguanga and Anza market. Also as we talked before I don't have to worry about you not wanting to drive on dirt roads. If you have any further questions on the sale of the subject property give me a call. Great to hear from you.
Justin C.
Thanks Brad, for your help and willingness to include me in the appraisal process. We have difficulties with appraisers willing to come out to Anza and to do a thorough appraisal job. It is great as an agent to run into somebody that is willing to set down and discuss our market and the sale data available. I will keep your card.
Victoria C.
********************
Property Appraisals and Valuations for the Unique homes in Anza
Brad Bassi, SRA is founder of Straw Hat Enterprises and I specialize in unique property situations in Anza, CA: manufactured home appraisals, custom home appraisals, horse ranch appraisals, residential vacant land appraisals, and more. My appraisal services are to assist with estate tax appraisals, divorce appraisals, bankruptcy appraisals, litigation appraisals, pre-listing appraisals, lending, etc. For a complete list of my services, visit my Services page. I will work with you to understand your project and what is needed to complete the appraisal. Complex appraisals and developing special assessment criteria, is what I do!
If you are looking for a residential property appraisal in Anza, CA, Please contact me today via e-mail (bradbassi@yahoo.com) or mobile telephone (909) 262-3434 to discuss your particular case.