Hello, wanted to say thank you to the Veterans Association of Real Estate Professionals (VAREP) for having me come to their meeting at the Corona MLS board office this past Thursday for a Lunch and Learn two hour session. For those in the VA world I would recommend that you search out and see if you have this group in your area.  So google search and then contact board members and find out there next meeting. I believe you will find it to be a good investment in your time.
I was able to spend about 30 minutes covering the highlights of what the VA appraiser will look for when they come out to the property as well as a few other thoughts on how to meet the appraiser and what to discuss, what not to discuss and how to present your market data and subject property information.
Take good care and if you would like to contact me about speaking at your firms event, be it a Real Estate Office staff meeting, an attorney's association meeting, or a MLS board meeting for agents, please contact me via my cell phone (909) 262-3434 or by email, bradbassi@yahoo.com .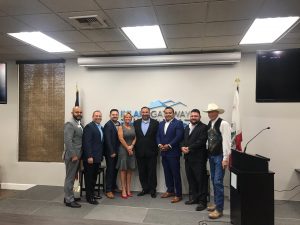 Board Members of the Riverside/ Corona VAREP and of course myself, not hard to pick me out of this line up, just look to the far right.
Thanks again to Jason Harris and Victoria Rebello for their kind hospitality.